It's more common today than ever to see telescopic semi trailers on the road. Also called extendable flatbed trailers, expandable flatbed trailers and stretch-deck trailers, they can carry especially long items that standard flatbeds can't accommodate.
The increased use of telescopic trainers is driven both by need and advances in trailer technology.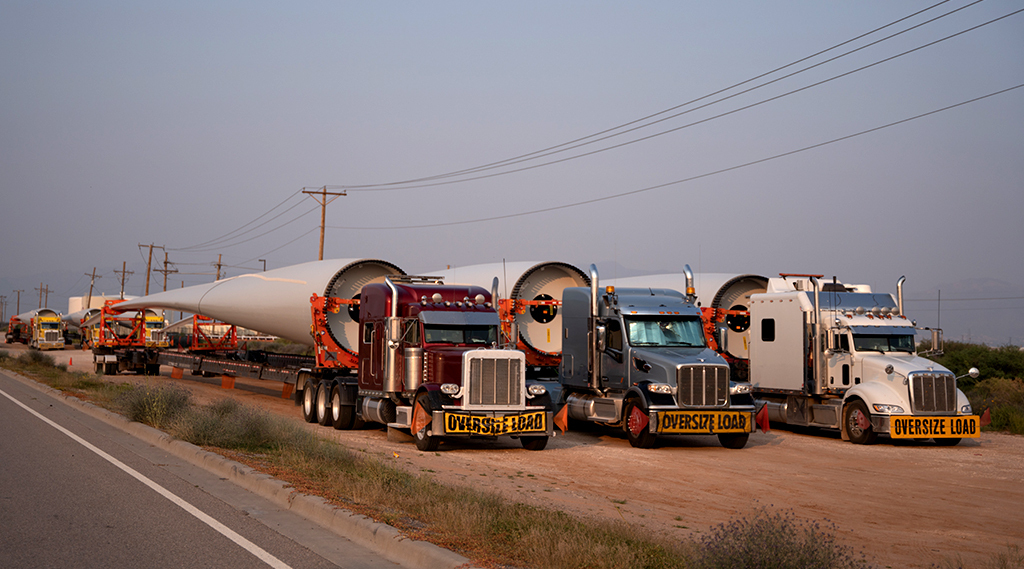 Understanding Extendable Semi Trailers
Extendable semi trailers are similar to other drop-deck trailers. However, they typically can expand from a length of 38 feet to a fully extended length of 65 feet. This adaptability enables them to carry incredibly long loads. They can haul approximately 43,000 pounds of freight at a maximum legal height of 10 feet.
In past decades, manufacturers of oversized loads and the truckers they worked with had to find creative ways to haul these types of loads or to break loads down into smaller components. However, semi trailer companies saw the need for trailers that could expand, and they made vital design changes in standard drop-deck trailers to create a new type of equipment.
Extendable semi trailers have certain features that enable them to do their job effectively, including:
Extendable beams. These beams are the cornerstone of a trailer's ability to expand. The shaft allows a driver to extend the bed with sufficient support so that it doesn't sag in the middle. That is critical for enabling safe driving and supporting and protecting the load they're hauling. Most extendable semi trailers have multiple expansion levels, with drivers using the minimal level that will accommodate a particular load.
Tail platforms. Extendable semi trailers also have a tail section that drivers can deploy to support long loads. This section either folds out for longer freight or is deployed by the driver pulling it out. In either case, drivers retract the tail platform after delivering their load.
Gooseneck connections. Extendable semi trailers have the familiar gooseneck connection seen on other types of trailers. Drivers can raise or lower the gooseneck to enable attachment to tractors of different heights.
Specialized steering functionality. To maneuver extra-long trailers safely and effectively, particularly on curved roads, drivers must have advanced steering capabilities. Extendable semi trailers can utilize any of multiple steering methods, including turntable steering, hydraulic bogies, and self-steering axles. The type of steering used varies depending on the type of loads a trailer will haul and other factors.
In addition, extendable semi trailers may be manufactured with different materials than standard drop-deck flatbeds. Manufacturers have done extensive testing to find suitable metals and other materials for producing trailers that can safely transport exceptionally long items.
Telescopic Semi Trailers and the Wind Energy Industry
Semi trailer manufacturers have developed telescopic trailers in response to needs in many industries. However, the fast-growing wind energy industry may be the most frequent user of these trailers.
Wind turbine blades typically are constructed as one long unit that manufacturers can't subdivide for transport. Consequently, manufacturers must load them onto semi trailers designed to accommodate their length. The same is true for other components like wind turbine tower sections.
But, of course, the wind energy industry isn't the only one that produces exceptionally long equipment. Many other types of manufacturers find that using specialized semi trailers to transport large equipment intact is more efficient and cost-effective than shipping it as components that workers must assemble at the delivery point.
Insights From Semi Trailer Experts
At Boxwheel Trailer Leasing, we offer a wide range of semi trailers for lease, rent and sale. However, just as important as our inventory is our deep knowledge of the semi trailer industry. Even if we don't stock a particular type of trailer, we can serve as a resource to our customers as they try to determine the best semi trailer for their needs.
Both our decades of experience and our ongoing industry immersion enable us to share insights about current trailer types and also innovative features and functions that trailer companies are developing to meet specific needs. People unfamiliar with the transportation industry may assume that semi trailers are fairly "static" and unchanging, but that's far from the truth.
Manufacturers of all types of equipment-dry van trailers, refrigerated trailers, flatbed trailers, liftgate trailers, telescopic trailers, etc.-continue to improve their functionality and performance. They're able to do this thanks to both their own innovative ideas and advances in technology that they can leverage to enhance their products and benefit their customers.
Once the enhancement to a type of trailer has been thoroughly tested in the factory and on the road, we work with our customers to determine if the new functionality is relevant to them and modify our inventory if appropriate.
Find the Leased, Rented or Purchased Semi Trailer You Need
We're a trusted semi trailer provider to businesses throughout the Southwestern U.S., with operations in Colorado, Arizona, Utah and Nevada. These companies look to us to meet a wide variety of challenges, from over-the-road transportation needs to local cartage to on-site storage.
Even when they aren't currently using our trailers, they enjoy tremendous peace of mind from our relationship. They know that we're available and eager to get them the ideal equipment for their requirements when they need us.
Contact Boxwheel Trailer Leasing today to learn more about our inventory of flatbed, liftgate, reefers, and dry van semi trailers for rent or lease. Our customers will tell you that we make renting, leasing or buying a semi trailer affordable, safe and easy.
About Boxwheel Trailer LeasingBoxwheel Trailer Leasing was founded on the idea that leasing semi trailers doesn't have to be complicated. Leveraging decades of experience in trailer leasing and sales, our team of industry veterans has eliminated the red tape and mountains of paperwork to make getting on the road with a leased, rented or purchased trailer easy, affordable, and safe. https://boxwheel.com
Boxwheel Trailer Leasing
Media ContactMike Di Paolo | Co-Owner(720) 527-2992
Original Source of the original story >> What Is a Telescopic Semi Trailer? by Boxwheel Trailer Leasing
This content is published on behalf of the above source. Please contact them directly for any concern related to the above.