Shower Glass, the UK's shower glass and component specialist, now sells Belle BC1 Professional Glass and Mirror Cleaner at the special low sales price from just Pound 4.75. The online retailer is fully stocked with the industry-leading glass and mirror cleaner and has locked in the special sales price for customers until the end of October.
Getting glass and mirrors clean with no smear isn't an easy task. There are hundreds of products on the market, but many of these products leave glass surfaces streaky. Belle BC1 Professional Glass and Mirror Cleaner has a superior formulation compared to other glass cleaners, making it the ideal product for UK tradespeople and the general public.
"We have been able to source and test this amazing product in-house and secure the lowest pricing in the UK," Lee Maggs, Owner and Founder of Shower Glass, said. "The October price will soon end as our latest stock drop sells out."
A 660ml can of Belle BC1 Professional Glass and Mirror Cleaner is ideal for cleaning shower screens, balustrades, splashbacks, and table glass. The cleaner works hard to clean tough-to-clear surfaces. Combining the Belle cleaning product with a microfibre cloth or lint-free wipe produces extraordinary results.
Belle BC1 Professional Glass and Mirror Cleaner is Ammonia-free, so users won't breathe-in noxious chemicals when using it. In addition, the harmful chemicals won't be left on glass surfaces to be inhaled by other people.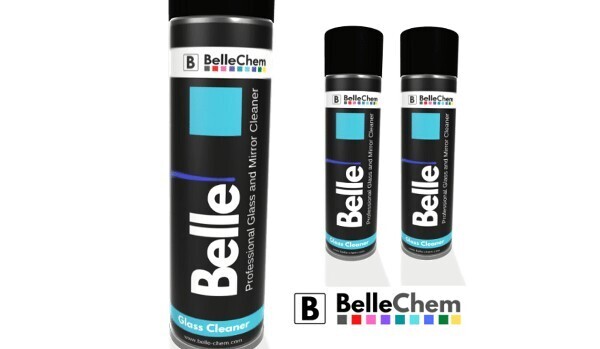 Shower Glass renowned for bespoke shower glass screens and their shower glass calculator, are selling the glass and mirror cleaner for a low price despite it being a professional cleaning product. Now, the UK public can purchase the same product professional cleaning services use to clear glass surfaces.
The product works best on glass surfaces such as windows, car windscreens, mirrors, glass surfaces, even and ovens. However, the product also works on mobile device screens, handrails, stainless steel, white goods, tiles, plastics, kitchen work surfaces and stainless steel. The Bell cleaning solution works on nearly everything, regardless if it is on a worksite or at home.
"We have tested the professional glass and mirror cleaner on everything, of course, from shower glass to mirrors, in the office, bathroom and warehouse," Maggs said. "In my opinion, this is the perfect way to clean up after a big installation."
Shower Glass's October stock sale won't last long. UK tradespeople and the public can get a 660ml bottle of Belle BC1 Professional Glass and Mirror Cleaner from Pound 4.75 while supplies last. You can purchase a bottle of the one-of-a-kind cleaner at Shower Glass's official website.
Digital PR - Woya DigitalNewsroom
This content is published on behalf of the above source. Please contact them directly for any concern related to the above.
This press release may contain forward-looking statements. Forward-looking statements describe future expectations, plans, results, or strategies (including product offerings, regulatory plans and business plans) and may change without notice. You are cautioned that such statements are subject to a multitude of risks and uncertainties that could cause future circumstances, events, or results to differ materially from those projected in the forward-looking statements, including the risks that actual results may differ materially from those projected in the forward-looking statements.